Meet Play Advocate and Author Pat Rumbaugh at the Gaithersburg Book Festival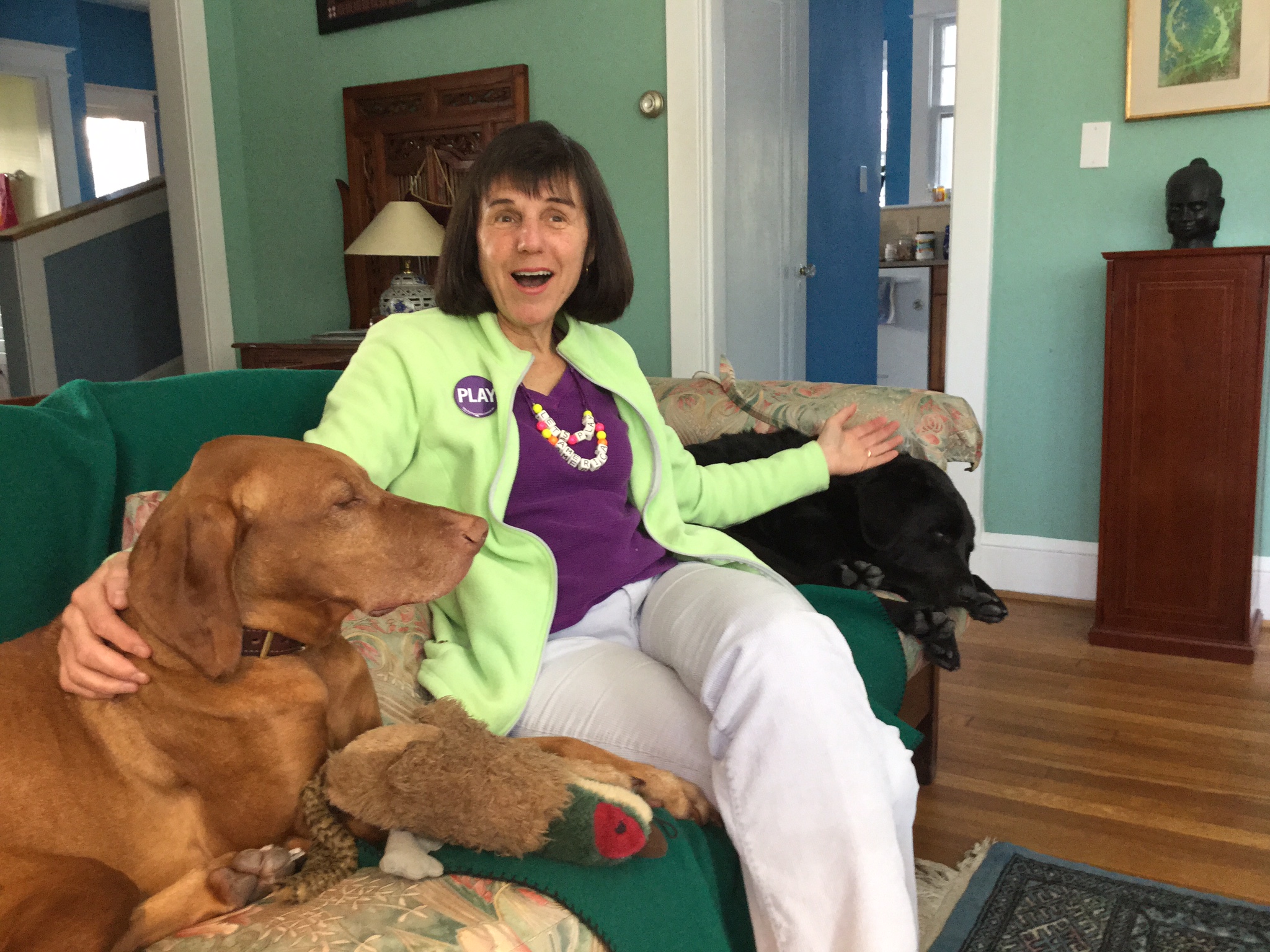 Posted By: Robin Materese
March 30, 2015
by Karen O'Keefe
"My mission in life is just to encourage everyone to play." — Pat Rumbaugh, The Play Lady
To many people in Takoma Park, Pat Rumbaugh is the "Play Lady," a title she happily accepts. On May 16, Rumbaugh, national advocate of the benefits of play for people of all ages, and author of a children's book on playing, will come to the Gaithersburg Book Festival.
Festival participants will find her in the GBF Children's Village, fittingly, on the playground, where she will be reading to visitors from her book, "Let's Play at the Playground," and encouraging children – and their adults – to engage in the activities the book illustrates: climbing, jumping, running, sliding, swinging – important elements of outdoor playing.
According to Rumbaugh and a host of experts, kids – and adults – who play every day benefit in countless ways. They learn better and are better able to focus. They have better language skills.  They are better problem solvers.  According to play advocates, through play, children lead happier, fitter, smarter and more socially adept and creative lives.
In today's environment – one in which many days of childhood are filled with programmed academic and enrichment activities – the vital role of creative play in a child's development and overall health can be overlooked.
"When I grew up, everyone just went out and played.  You came home at dinnertime… there was just so much more community play than there seems to be now.
"I noticed that while people do possibly play in structured ways, they are not playing or participating in the unstructured free play I did as a child. It is important that everyone have free play, particularly young children, because they need to be creative.
Author Rumbaugh is the founder of Takoma Plays!, an organization with the goal of promoting play in the city of Takoma Park, Md.  Since 2009 and her "retirement"  from a career coaching high school tennis and teaching physical education, Rumbaugh and Takoma Plays! has helped Takoma Park achieve designation as a "Playful City USA" for six consecutive years. The more than 200 cities recognized each year by the Playful City USA program, sponsored by the Humana Foundation and administered by the nonprofit that supports play and builds playgrounds, Kaboom.org, do important work to recognize and promote the importance of play, taking innovative and comprehensive actions to increase "playability."
Takoma Plays!  supports indoor and outdoor play for all generations and has organized nearly 50 community-wide play events.
Today, Rumbaugh is also building a new nonprofit, Let's Play America, in order to take the Takoma Park experience to other communities and cites throughout America.
At the GBF, Rumbaugh will read her book, "Let's Play at the Playground" which is filled with large, colorful action pictures of real children engaged in real play.
She says reading the book to children is never a passive activity for her – or her audience.
"Anytime I read to a group of children, there is always at least one person who cannot hold back," says Rumbaugh, with a smile.  "Someone will announce: 'I am a really fast runner – watch me!'"
And so the games begin.
Come to the Gaithersburg Book Festival and join in the fun with the Play Lady.  Rumbaugh will also have copies of her book, "Let's Play at the Playground" for sale ($13).
You can "meet" Pat Rumbaugh in the YouTube video, "The Play Lady."
Learn more about the activities that will be offered in the GBF Children's Village.
Related Posts:Meet Exhibiting Author Deliah Lawrence
Related Posts:Live in the Children's Village… the Penny Theater Puppet Show