Gene Luen Yang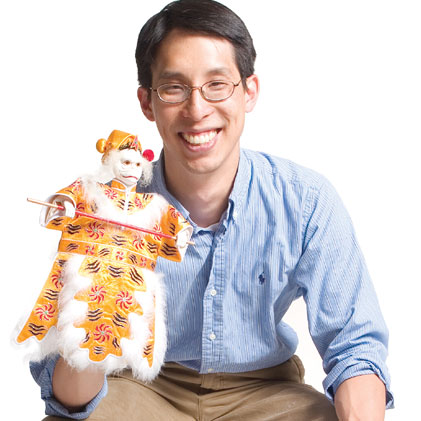 Gene Luen Yang is the author of "American Born Chinese," the first graphic novel to be nominated for a National Book Award and the first to win the ALA's Printz Award. "Boxers & Saints," about the Boxer Rebellion, was nominated for a National Book Award and won the L.A. Times Book Prize.
Gene has done a number of other graphic novels, including the comics continuation of the popular Nickelodeon cartoon "Avatar: The Last Airbender." In addition to cartooning, he also teaches high school computer science, as well as creative writing through Hamline University. He lives in the San Francisco Bay Area.
Twitter: @geneluenyang
Book Description
In the comics boom of the 1940s, a legend was born: the Green Turtle. He solved crimes and fought injustice just like the other comics characters. But this mysterious masked crusader was hiding something more than your run-of-the-mill secret identity... The Green Turtle was the first Asian American super hero.
The comic had a short run before lapsing into obscurity, but the acclaimed author of American Born Chinese, Gene Luen Yang, has finally revived this character in Shadow Hero, a new graphic novel that creates an origin story for the Green Turtle.
With artwork by Sonny Liew, this gorgeous, funny comics adventure for teens is a new spin on the long, rich tradition of American comics lore.