Falynn Koch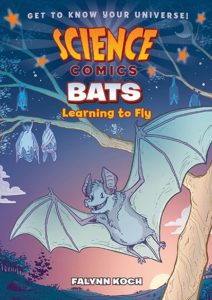 Falynn Koch currently lives in old city Philadelphia  with her husband Tucker and her dog Ghost. She has a Masters degree from Savannah College of Art and design in Atlanta, and is a graduate of the International Culinary Center in New York City. She's a former food truck owner and is the writer and illustrator for two books in the First Second science comic book series, "Bats: Learning to Fly" and "Plagues: Biological Battlefield." She is currently working on a comic book about the science, history and skill of baking. She's a lover of animals, germs, food history and, of course, comic books.
Instagram: falynnk
Twitter: @FalynnK
Falynn Koch at the 2017 GBF:
Program:
Science Comics
Time: 2:15 pm - 3:05 pm
Genre: Fiction
Location: Jim Henson Pavilion
Signing Time: 3:15 pm
Book Description
Every volume of Science Comics offers a complete introduction to a particular topic―dinosaurs, coral reefs, the solar system, volcanoes, bats, flying machines, and more. These gorgeously illustrated graphic novels offer wildly entertaining views of their subjects. Whether you're a fourth grader doing a natural science unit at school or a thirty year old with a secret passion for airplanes, these books are for you!
This volume: In Bats, we follow a little brown bat whose wing is injured by humans on a nature hike. He is taken to a bat rehabilitation center where he meets many different species of bats. They teach him how they fly, what they eat, and where they like to live.