Jerdine Nolen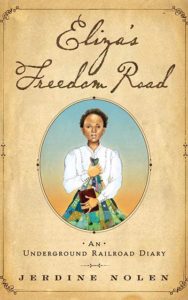 Jerdine Nolen is the beloved author of many award-winning books, including "Big Jabe;" "Thunder Rose," a Coretta Scott King Illustrator Honor Book; and "Hewitt Anderson's Great Big Life," a Bank Street Best Book of the Year; all illustrated by Kadir Nelson. She is also the author of "Eliza's Freedom Road," which was an ALA/YALSA Best Fiction for Young Adults nominee; "Raising Dragons," which received the Christopher Award; and "Harvey Potter's Balloon Farm," which won the Kentucky Bluegrass Award. Her other books include "Plantzilla," which was a Book Sense 76 Selection, and "Irene's Wish," which Kirkus called "delightful and memorable in a starred review. Her new novel, "Calico Girl," also a Kirkus starred review.
Book Description
Christopher Award–winning author Jerdine Nolen imagines a young woman's journey from slavery to freedom in this intimate and powerful novel that was named an ALA/YALSA Best Fiction for Young Adults nominee.
It is 1854 in Alexandria, Virginia. Eliza's mother has been sold away and Eliza is left as a slave on a Virginia farm. It is Abbey, the cook, who looks after Eliza, when she isn't taking care of the Mistress. Eliza has only the quilt her mother left her and the stories her mother told to keep her mother's memory close.
When the Mistress's health begins to fail and Eliza overhears the Master talk of the Slave sale auction and of Eliza being traded, she takes to the night. She follows the path and the words of the farmhand Old Joe: "Travel the night. Sleep the day…Go east. Keep your back to the setting of the sun. Come to the safe house with a candlelight in the window…That gal, Harriet, she'll take you."
All the while, Eliza recites the stories her mother taught her as she travels along her freedom road from Mary's Land to Pennsylvania to Freedom's Gate in St. Catharines, Canada, where she finds not only her freedom but also more than she could have hoped for.
In praise of the book, Alma Powell said, "A story of hope, determination, and the triumph of the human spirit."