Michael Hearst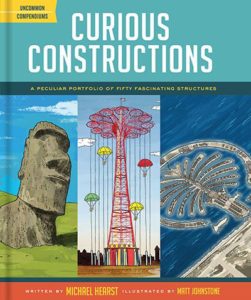 Michael Hearst is a composer, multi-instrumentalist and writer whose vast output is marked by a fascination with extremely specific themes. His most recent project is a three-part book series, "Unusual Creatures," "Extraordinary People" and "Curious Constructions." The first book, "Unusual Creatures," includes the companion album, "Songs For Unusual Creatures," and sections of the book have been made into a PBS Digital series. His previous album, "Songs For Ice Cream Trucks," has been used by at least 50 ice cream trucks around the world. Hearst also has composed soundtracks for the movies "To Be Takei," "Magic Camp," "The House Of Suh" and "The Good Mother," among others.
Instagram: michaelhearst
Twitter: @MichaelHearst
Book Description
Curious about constructions? Inside this book, you'll come face-to-face with 50 incredible structures, including: a fire-breathing octopus sculpture; the skateboard ramp you'd need to jump the Great Wall of China; a whole community of tree houses in Costa Rica; and a lifesize X-Wing Starfighter built of Legos. These and many more fascinating accounts of constructions both fantastically useful and gloriously unnecessary await inquisitive readers, aspiring engineers, and anyone who ever looked at a skyscraper and thought, "Yeah, but what if it had a roller coaster on top?"