Erin Teagan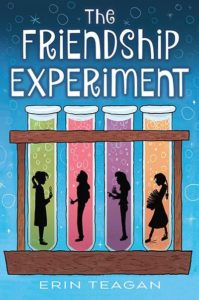 Erin Teagan has a Master's degree in Science and worked in biochemistry labs for more than 10 years. Her debut middle grade novel, "The Friendship Experiment," came out in 2016 from Houghton Mifflin Harcourt. She is an avid reader and an active member of the Society of Children's Book Writers and Illustrators. Erin lives in Virginia with her family.
Twitter: @ErinKTeagan
Book Description
Future scientist Madeline Little is dreading the start of middle school. Nothing has been right since her grandfather died and her best friend changed schools. Maddie would rather help her father in his research lab or write Standard Operating Procedures in her lab notebook than hang out with a bunch of kids who aren't even her friends. Despite Maddie's reluctance, some new friends start coming her way—until they discover what she's written in that secret notebook. And that's just part of the trouble. Can this future scientific genius find the formula for straightening out her life?