Danielle Tate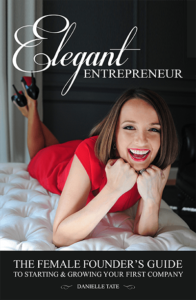 Danielle Tate is the founder and CEO of MissNowMrs.com, a multimillion dollar online name-change company. She is an entrepreneur, author of "Elegant Entrepreneur: The Female Founder's Guide to Starting & Growing Your First Company," sought-after speaker, wife and mother. Danielle is also the spokeswoman for Empowered Women International, a non-profit that uses entrepreneurship education to empower immigrant, refugee and at-risk women in the Washington, D.C., metropolitan area.
Twitter: @Elegant_Entre
Book Description
Across a decade of her career as an entrepreneur, Danielle Tate learned how to transform good ideas into successful businesses. At age 25 she bootstrapped MissNowMrs and grew it into a multimillion-dollar enterprise. As a young female founder, she noticed that few business guides offered step-by-step advice to smart but inexperienced women. Elegant Entrepreneur draws on Tate's experience and on conversations with prominent entrepreneurs and top executives. She not only shows -- in straightforward and easily accessible terms -- how one can transform a rough concept into a lucrative business; she also gives readers a privileged peek into the entrepreneur lifestyle that allows business owners to take charge of their lives. Relevant both to women with no business background and to those in the process of developing a business, Elegant Entrepreneur offers key information and concepts from idea to exit. It discusses the early stages of evaluating an idea, understanding market demands, pitching ideas, building a team of partners and employees, launching, fundraising, marketing and growing a company, handling competition, and knowing when to sell. Tate navigates complex business terrain with clarity, insight, and yes, elegance. Readers are given the chance to see if entrepreneurship is right for them, and stand to gain the freedom, flexibility, and job satisfaction that comes with founding and running one's own business.