Christina Kovac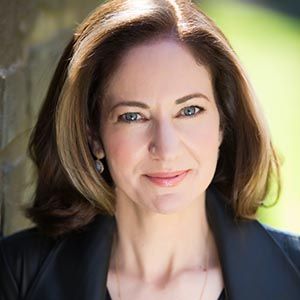 Christina Kovac writes psychological thrillers set in Washington, D.C. "The Cutaway" is her debut novel.  She worked for 17 years managing Washington, D.C., newsrooms and producing crime and political stories in the District. Her career as television journalist began with Fox Five's Ten O'Clock News, and after that, the ABC affiliate in Washington. For the last nine years, she worked at NBC News for Tim Russert and providing news coverage for Meet the Press, the Today Show, NBC Nightly News and others. Christina lives with her family in suburban Maryland.
Twitter: @christina_kovac
Christina Kovac at the 2017 GBF:
Program:
Journalists as Detectives
Time: 1:15 pm - 2:05 pm
Genre: Fiction
Location: Dashiell Hammett Pavilion
Signing Time: 2:15 pm
Book Description
The Cutaway draws you into the tangled world of corruption and cover-up as a young television producer investigates the disappearance of a beautiful Georgetown lawyer in this stunning psychological thriller, perfect for fans of Paula Hawkins and Gillian Flynn.
When brilliant TV news producer Virginia Knightly receives a disturbing "MISSING" notice on her desk related to the disappearance of a beautiful young attorney, she can't seem to shake the image from her head. Despite skepticism from her colleagues, Knightly suspects this ambitious young lawyer may be at the heart of something far more sinister, especially since she was last seen leaving an upscale restaurant after a domestic dispute. Yet, as the only woman of power at her station, Knightly quickly finds herself investigating on her own.
Risking her career, her life, and perhaps even her own sanity, Knightly dives deep into the dark underbelly of Washington, DC business and politics in an investigation that will drag her mercilessly through the inextricable webs of corruption that bind the press, the police, and politics in our nation's capital.
Harkening to dark thrillers such as Gone Girl, Luckiest Girl Alive, and Big Little Lies, The Cutaway is a striking debut that will haunt you long after you reach the last page.