Brian Floca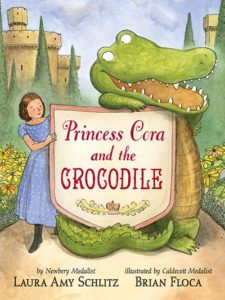 Brian Floca is the author-illustrator of the 2014 Caldecott Medal winner "Locomotive," the Robert F. Sibert Honor books "Moonshot: The Flight of Apollo 11" and "Lightship; and The Racecar Alphabet," as well as other picture books. He has illustrated "Avi's Poppy," winner of the Boston Globe-Horn Book Award; Jan Greenberg and Sandra Jordan's "Ballet for Martha: Making Appalachian Spring;" Kate Messner's Marty McGuire novels; Lynne Cox's "Elizabeth, Queen of the Seas;" and the forthcoming "Princess Cora and the Crocodile," by Laura Amy Schlitz.
Brian was born and raised in Temple, Texas, and currently lives and works in Brooklyn, N.Y.
Twitter: @brianfloca
Book Description
A Newbery Medalist and a Caldecott Medalist join forces to give an overscheduled princess a day off — and a deliciously wicked crocodile a day on.
Princess Cora is sick of boring lessons. She's sick of running in circles around the dungeon gym. She's sick, sick, sick of taking three baths a day. And her parents won't let her have a dog. But when she writes to her fairy godmother for help, she doesn't expect that help to come in the form of a crocodile—a crocodile who does not behave properly. With perfectly paced dry comedy, children's book luminaries Laura Amy Schlitz and Brian Floca send Princess Cora on a delightful outdoor adventure — climbing trees! getting dirty! having fun! — while her alter ego wreaks utter havoc inside the castle, obliging one pair of royal helicopter parents to reconsider their ways.