Fred Bowen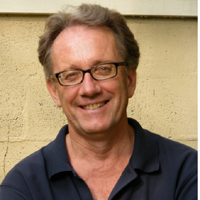 Fred Bowen is the author of 22 action-packed books for kids, including his most recent, "Outside Shot." He also has written a weekly sports column for kids in The Washington Post since 2000.
Fred holds a degree in history from the University of Pennsylvania and a law degree from George Washington University. He was a lawyer for thirty years before retiring to become a full-time children's author.
Fred lives in Silver Spring, Maryland, with his wife Peggy Jackson. They have two grown children. Their son, Liam, is the pitching coach and recruiting coordinator for the University of Maryland – Baltimore County (UMBC) and their daughter, Kerry, is studying to become a reading specialist.
Fred Bowen at the 2017 GBF:
Program:
Sports
Time: 3:15 pm - 4:05 pm
Genre: Children's
Location: Jim Henson Pavilion
Signing Time: 4:15 pm
Book Description
Eighth-grader Richie Mallon has always known he was a shooter, but will his amazing shooting talent be enough to keep him on the team? Outside Shot tells the story of eighth-grade basketball player Richie Mallon, who is known as the shooter, the one on the team who scores most of the baskets. He has practiced every day at his driveway hoop, perfecting his technique. Richie never plays any other roles on the court; he lets his teammates do the assisting and rebounding. Richie makes the team under a tough new coach, but hes not a starter. Then when his shooting skills go into a slump, he must find a way to become a more well-rounded player. Author Fred Bowen continues his Sport Story Series with full court, play-by-play action thats sure to keep readers on the edge of their seats!