Adriana Arrington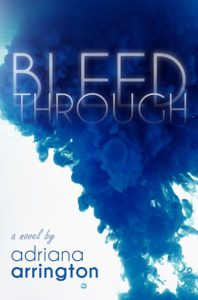 Born to an Air Force JAG father and an artist mother, Adriana Arrington learned from an early age there are at least two sides to every story, and each deserves to be told. After a nomadic upbringing, she married a southern charmer and settled down permanently in his home state of Virginia. To satisfy her enduring wanderlust, she transports herself to the sometimes scary, sometimes beautiful, but always interesting worlds of novels. Formerly an IT consultant to the DoD, she now writes full-time. She released "Bleed Through" in March 2017.
Twitter: @AdriArrington
Book Description
With his schizophrenia under control, life is looking up for twenty-five-year-old Liam Murphy. Independence looms on his horizon, and he's under the care of a psychologist who understands him. Then he witnesses a murder at the yacht club. He worries it's a hallucination and sign of regression, but soon becomes convinced that his meds have given him the paranormal ability to see past events and that the murder actually happened.
Attempting to make sense of his new talent, Liam finds an unlikely confidant in Mai Nguyen, a fellow college student and eternal optimist. Though she helps him navigate the unsettling memories threatening to engulf him, the emotional toll of learning terrible secrets he can't prove pushes Liam to the brink of lucidity.
Desperate to wrest back control of his life, Liam tosses his pills. He spirals into a relapse and captures the killer's attention as he bumbles through investigating the crime. Hunted by a possibly imaginary murderer, and haunted by self-doubt, Liam must distinguish between hallucinations and reality. If he doesn't, he risks losing either his hard-won sanity or his life.