Q&A with Exhibiting Author & Novelist Dan Santos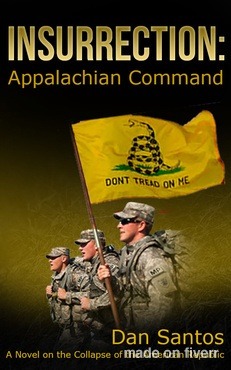 Posted By: Robin Materese
April 24, 2014
Exhibiting author Dan Santos is a Gaithersburg, Md., resident and author of the novel, "Insurrection: Appalachian Command," the story of a massive Al Qaeda act of terror that plummets the U.S. into a new Civil War. Dan is a former U.S. diplomat and Army infantry officer who served both in the U.S. and overseas during both peace and war times. Dan prides himself on writing with a realistic touch and for not subjecting his readers to "wild scenarios and implausible results."
"Insurrection: Appalachian Command" is the first in Dan's series of war adventures featuring former Army Ranger Jude Winthrop. Given the nature of Dan's novels, he clears all of my books through the State Department and other government agencies, which he says presents a timeliness and stylistic challenge.
What inspired you to write "Insurrection" and is it simply a good story? Is there a message?
During my time in the U.S. Foreign Service and the U.S. Army, I lived through terrorism, revolutions, coups d'etat and every type of imaginable social upheavals. During each of those terrible experiences, I found comfort in the thought that those things could not happen in our country. September 11, 2001, and subsequent events convinced me that those things could happen in America given the right set of circumstances. That's where the idea came from.
I pity writers who don't have a message. My message to our fellow Americans is this: it can happen here. We live in the most wonderful country in the world, but we are not indestructible.
In your bio, you mention you are a former U.S. diplomat and former Army officer. I assume that's where you picked up the acronyms, jargon and technical details sprinkled throughout the book, but in what other ways did your service to the country inform the plotlines in "Insurrection"?
The job of an infantry officer is to kill or capture the enemies of our country. The job of a diplomat is to go abroad and make friends for America. The thing is, you can't do well either of those jobs without being well versed on the nature of politics and foreign affairs.
My educational background gave me a solid theoretical foundation. I hold a B.A. in Politics and Public Affairs, an M.S. in Management and a second M.S. in National Security Strategy from the National War College. In the Army and the Foreign Service, my agencies gave me a lot of tradecraft training which allows me to devise realistic plots.
To this solid theoretical background I added a lot of first-hand experience in dealing with incredibly complex situations. For instance, while in the Army I was assigned to shepherd three high ranking Portuguese officers during a NATO visit. These career officers saw their world turn upside down when their government was brought down by a coup d'état. While in the Foreign Service, which is what the U.S. calls its diplomatic service, my professional, personal and family life was impacted by terrorism, military revolts against constitutional governments and many other types of political upheaval. These experiences gave me a lot of realistic, first-hand experience that I've been able to sanitize and use in my writing.
Are you retired now? What hobbies or other activities do you do for fun?
I am indeed retired from federal service. That said, when I am not reading or writing I am constantly active with my wife, my grandchildren and my dogs. In addition, one of my Hagerstown grandchildren got me into his Karate studio about a year ago and we keep busy with classes and tournaments.
Do you have kids? Grandkids? If so, do you read books to them? What books?
Yes to both. I have two daughters and five grandchildren. My eldest daughter and her only son live in Leesburg, Virginia. My youngest daughter and her four kids live in Hagerstown. My youngest granddaughter loves to read to me! It's sort of a ritual before she goes to sleep when she comes to visit.
There are books for every age, and my wife, my daughters and I make sure that the grandkids read age appropriate material. I know that my Hagerstown grandchildren spend a lot of time at the library, and my youngest grandson, who's seven, announced to me that he was writing a book.
Read more from Dan in this Q&A in the Herald-Mail.
You can hear more from Dan on Pinterest, Twitter and Facebook.
Related Posts:Meet Exhibiting Author Deliah Lawrence
Related Posts:Q&A with Non-fiction author Steve Vogel
Related Posts:Q&A with Valerie and Lisa Martin