An Evening with Frederick Forsyth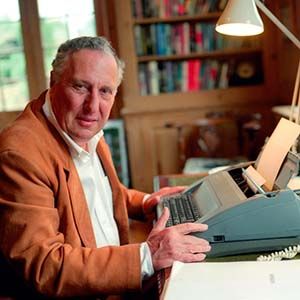 September 21, 2015
Join the GBF and Politics & Prose Bookstore for this very special author event:
An Evening with Frederick Forsyth. The Master Storyteller will be speaking about his new memoir, "The Outsider: My Life in Intrigue," and doing a signing afterward. Books will be on sale at the event.
When: Wednesday, October 7, 2015. 7-9 pm.  Doors open at 6:30pm and it is suggested that you arrive early as seating is limited and first come/first serve.
Where: Gaithersburg Library, 18330 Montgomery Village Avenue, 2nd Floor, Gaithersburg, MD, 240-773-9490
Cost: FREE! But, as noted above, seating is strictly limited and first come/first serve.
Parking: The library has limited parking, but you are welcome to park at the the Montvale Center, which is next door, at 18310 Montgomery Village Avenue
About the Author: Frederick Forsyth is the author of 15 internationally best-selling novels and two short story collections. A former pilot and print and television reporter for Reuters and the BBC, in 2012 he won the Diamond Dagger award from the Crime Writers' Association for a career of sustained excellence. Five of his books, starting with "The Day of the Jackal," have already been made into successful films, and a major motion picture based on "The Kill List" is currently in the works.But what most people don't know is that some of Forsyth's greatest stories of intrigue have been in his own life.  During this event, Forsyth will talk about his new memoir, "The Outsider: My Life in Intrigue," in which he reveals that his adventures and personal experiences have been as gripping as any twisting plot line found in his collection of blockbuster novels.
About the Book: Over nearly five decades, Frederick Forsyth has written some of the world's most acclaimed and successful novels of suspense.  He has mesmerized millions of readers and moviegoers with breakneck, all-too-plausible stories about assassinations, conspiracies, civil wars, arms smuggling, the drug trade, ex-Nazis, mercenaries, terrorism, espionage, and all manner of international intrigue.  Now, for the first time, Frederick Forsyth tells the story of his own remarkable life, filled with spine-tingling events that in many cases inspired his fifteen novels, in THE OUTSIDER: My Life in Intrigue (G. P. Putnam's Sons; October 6, 2015).
Politics & Prose Bookstore will be on-site at this event selling copies of "The Outsider" and other select titles.